Principal Investigator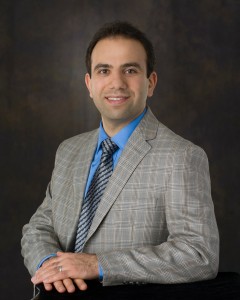 Ahmad Ghahreman, Ph.D., P.Eng.
Assistant Professor
Robert M. Buchan Department of Mining,
The Department of Chemical Engineering (cross-appointed)
Queen's University
Office: Goodwin Hall, Room 340
Laboratory: Goodwin Hall, Room 446
Office: +1 (613) 533-3294
Email: ahmad.g@queensu.ca
EDUCATION
Ph.D., Materials Engineering, UBC, Vancouver 2012
M.Sc., Materials Science and Engineering, Sharif University of Technology, Tehran, Iran 2007
B.Sc., Materials Science and Engineering, Sharif University of Technology, Tehran, Iran 2005
EXPERIENCE
Assistant Professor, Hydrometallurgy and Environment
Queen's University, Kingston, Ontario
Jan. 2014 – Present
NSERC – Industrial R&D Fellow (Metallurgist)
Barrick Technology Centre, Barrick Gold Corp., Vancouver, BC, Canada
Aug. 2012 – Dec. 2013
About Ahmad G.
Hi there!  My name is Ahmad Ghahreman (well, some people know me with my former last name which was a bit too long: Ghahremaninezhad!).  I joined the Robert M. Buchan Mining Department at Queen's University in January 2014 with the intention to build a strong Hydrometallurgy Research Group at Queen's University.
During the past years I have been fortunate to gain post-doctoral work experience with Barrick Gold Corp. as a Metallurgist at Barrick Technology Centre. Since joining Queen's University I have been actively involved in many projects with the Government of Canada, several senior and junior Canadian mining companies, as well as international and US based mining companies, as a consultant.
My main metals of interest are gold, copper, strategic metals such as lithium and rare earth metals, minerals such as potash and nitrates, and I have been involved in several waste and toxic elements remediation projects, such as mercury problem in gold industry and arsenic immobilization process development.